It's an unseasonably beautiful day here in Western Massachusetts, roughly 30 degrees farenheight higher than it has any right to be, and I was sitting on my front stoop reading when my local census enumerator showed up. We made pleasant small talk about the weather, the remoteness of my house, the challenges of locating houses in our rural area, and then got down to the good stuff – attempting to find my neighbors on her handheld device, so she could ask them their correct mailing addresses.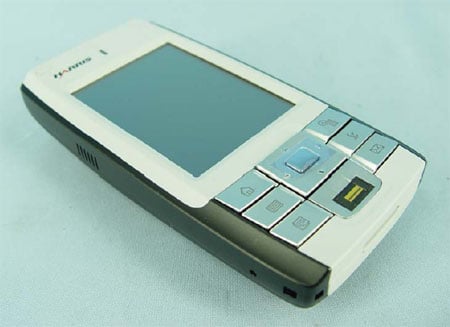 The device she had strapped to her hand was a Harris HTC, which looks either like the ugliest cellphone you've ever seen, or a Palm Pilot designed by the US government. We scrolled through bad, inaccurate maps of the area, which looked like they'd been dumped from an early version of MapQuest, wondering how the ridgeline behind my house had magically been transformed into a navigable road, and talked about the device.
My enumerator was reasonably fond of her HTC – there were serious ergonomic problems, like a power button that tended to get inadvertently pressed when gripping the device, powering it off. And powering on isn't exactly easy, given a multi-stage security process which requires a fingertip swipe, then a series of three security questions, answered by typing an on-screen keyboard with a stylus. But, all things considered, she was happy for a full-time job, and enjoying the chance to drive around our county on a gorgeous day, attempting to correct government maps and to ensure we all get sent our paper censuses.
I had to find out more about the device in question – how does a company get the contract to build 525,000 handheld computers? And why not just give everyone iPhones or Blackberries instead?
Well, Harris is a huge government and military contractor, which recently announced its intention to swallow Tyco Wireless, another huge government electronics contractor. Given that all their customer testemonials come from military personnel, my guess is that they don't have much of a consumer products division. Neither do the folks who lost out on the bids, General Dynamics and Northrop Grumman.
They're not making a whole lot of friends with this new device. Last year, the Government Accountability Office added the 2010 Census to a list of high-risk programs. Basically, it sounds like requirements changed several times, and Harris ended up very late to market, with a somewhat buggy device. This freaked people out, and the Census quickly announced that they wouldn't actually be using the devices – they'd use them just to conduct the first stage of the census, checking addresses, while the actual census (conducted door to door, of people who hadn't sent in the forms themselves) would take place using clipboards and paper.
In other words, the relatively lame device my friendly enumerator was carrying, which cost $600 million, doesn't actually work well enough to use for its intended purpose, is still being used in the field, perhaps so that it can be readied for 2020? Anyone believe that we'll be able to do better than a half-pound, paperback-book sized plastic brick within ten years?
I haven't traced the story back thoroughly enough to understand why the US government didn't use an off the shelf device. My guess is that the requirements (encrypted data streams between device and server, biometric security, a variety of paths towards data networks, mostly via cell networks) were tough for commercial handhelds to meet. But it seems like one pathway might have been to remove the most arduous of those requirements – the biometric sensor – and use a platform whose hardware had been extensively field-tested as a mobile phone, and simply debug a secure communications layer and a data collection application.
Then again, that's probably why I don't work on government IT projects anymore.